Have you got a big golf game tomorrow? Think twice before citing a game as a "big tournament" and putting yourself under pressure to perform better than your best. Do you have any specific game strategy in mind? Have you decided on which golf clubs you would use to hit off each tee into the greens? Do you take few minutes off before rounds to visualize the shots you would hit on the ground?
Do you know, pro golfers predict 3 possible pin locations and have a specific strategy for each, irrespective of the weather?
Coming back to the main point, have you ever wondered if there were an app to note down your scores during a game and track your progress across games? "Dormie Golf – Match Play & Tournament Manager" by Karate Kitten Studios is a play store app that does the job for you. Dormie Golf is not just a golf Tournament & Match Play Calculator. It provides you a splendid golfing experience with integrated real-time scoring, leader boards, advanced Tournament features, scoring alerts, and much more.
Dormie Golf helps you track your progress, historical data, and competitions. Apart from serving individual golfers of varying skill levels, Dormie provides a one-stop solution for golf clubs and golf courses too using simplified technology.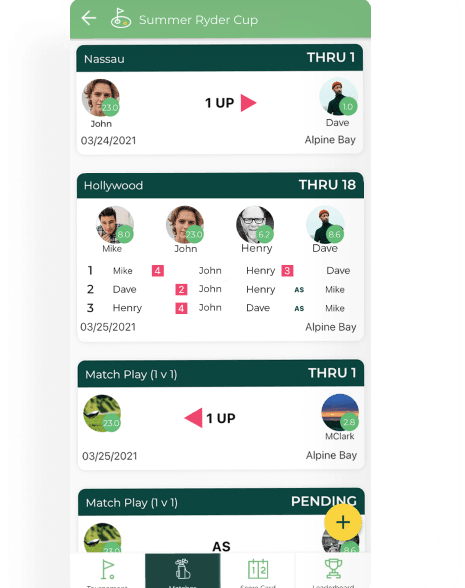 Once you hit on that install button after searching for the app, you will be prompted to sign up. Choose a user name, pick a home course, enter your index, zip and finally create your own login credentials. Once you are in, you can choose to play individual matches, tournaments, create a history, and check where you stand on the leader board.
To create a match, click on the Play Golf button and enter details such as the Event Name, Course, Course Tee, Match Type, add match players and play away! Once you are done playing, hit the End Match button to see your results reflected instantaneously on your profile. You can view your progress on the System Leader board as well. Worked up with too much information? Dormie has filtering options to make the data more accessible and fun.
Dormie also assists you in setting up your single and multi-round tournaments. You can apply dozens of game modes such as Match Play, Stroke Play, 2 Player Best Ball, Pinehurst format, Mixed Mode Tournament, Stroke Mode, and many more. The app also introduces the first of its kind Hollywood Mode where you can play teams within a foursome and Dormie handicaps and scores it all for you.
The History tab offers access to historical round data, stats, and old scorecards that you can show off proudly. The Profile tab displays your records over "Last 10", "All time" scores, and your score average within seasons. Dormie Golf even has the option to Request Course and Course Correction.
With the app in its first version, you can leave feedback and come back later to witness it implemented. Forget your competitors and get set to play against your par!