Are you fond of pets? Would you like to take up responsibilities and nurture a sweet little kitten? You can help it grow into a beautiful cat, by fulfilling all its whims. Buy it some food, ice creams and toys and I am sure it would grow really soon. As the simile goes: As playful as a kitten, the same concept is witnessed here in this gaming app by Dynamic Pixels. This fun simulating app is just perfect for someone ready to learn the art of nurturing.
The game begins, where you can choose the color of your kitten and give it a name. Not only this, you can also decide the sex of your cutie. You can buy a mouse for your new family member and help it learn hunting. If you have a female kitten, then buying a bear for her, would be a great idea. Gift your pooch a ball or a ball of yarn.
Adorn your female kitten with a beautiful red bow available at just 29 coins. Make her look her best. Design the perfect ambiance for her and give her the best nurturing. She will definitely enjoy your company and be faithful to you.
Buy a helicopter for your macho kitten and he will surely have ample of enjoyment with it. You can buy all this with the coins you earn from two in-between games. Purchase everything that can keep your kitten happy. Keep him / her in different rooms, for instance the sitting parlor, dinning room and kitchen. Give it a bath where he can sail through his / her bathing tub. Give it a new nice shampoo to keep away the fleas.
Allow your pet to go for holidays with your friends. After all, even it needs a break. Share your MewSim through the social network integration system. Remember to bring him / her back home when he returns from the vacation. This innovative app will definitely bring out the caring nature from you. Available in seven different languages, this gaming app by Dynamic Pixels can be enjoyed by people from all over the world.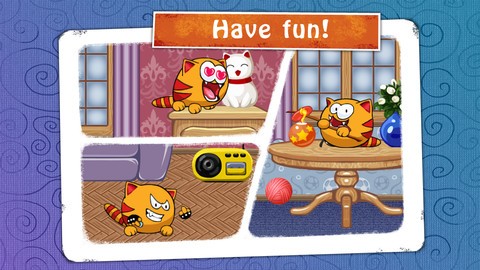 Although, the graphics of the app are a little confusing and everything leads you to a payment page where you need to spend your coins to buy stuff for your kitten. In short, you need to pay for everything to nurture this beautiful kitten. The only rescue is the inbuilt games where you can earn some coins and then spend them on your pooch.
The latest version of the MewSim app features an in-game video which can be tapped to watch. Can be supported both by an iPhone and an iPad with a minimum requirement of iOS 4.3 or later. You need to spend real currencies to purchase fish for your cat. You get 140 fishes at $0.99, 480 fishes at $2.99 and so on. Though a free app, you cannot help your kitten survive if you fail to make add-on purchases for it.
Nevertheless, you can try this gaming app and at least, build in yourself a sense of responsibility and care for living beings.