As technology is evolving, hackers are using it to track and hack your online activities. Therefore, many users worldwide have started to either limit their online activities or to use a VPN. If you're also worried about cyber-attacks or other security issues, you can use iTop VPN. A VPN provides many benefits, including hiding your IP address and encrypting your data. The only thing you need to make sure of is to choose a trusted and reliable VPN. So, without wasting any time, let's find why you need to use iTop VPN in daily life.
Why Do You Need to Use iTop VPN?
There are plenty of reasons to use a reliable VPN app. Whether you want to play games or browse websites, you need to use a virtual private network to keep your identity anonymous and protect your personal information. Moreover, it protects you from hackers and programmers.
We recommend this VPN because it has all the features that a VPN should have and can bring more. For example, it offers access to restricted content in some countries, transparent pricing and all features in the free version, a no-log policy, better streaming, fast speed, and personal protection. When you compare this tool with its competitors, you'll come to know that it's better than many in terms of quality.
If you want to use a free, easy-to-use, trusted, and secure VPN, then you can try iTop VPN. Use this VPN and enjoy your favorite music and shows without exposing your personal data. It's available for iOS, Windows, and Android users.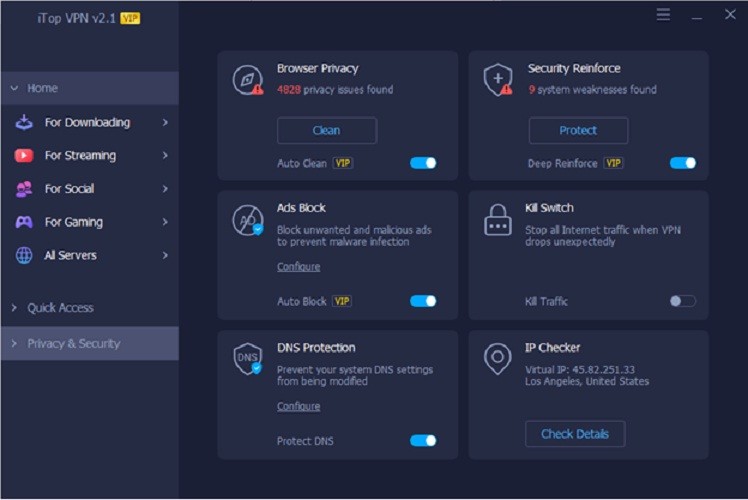 Pros and Cons of iTop VPN
Before starting using any app, it's crucial to know about its merits and demerits. So, let's find some pros and cons of this app.
Advantages of iTop VPN
Many people don't use a VPN because it slows down the internet speed. But it's not the case with this app. It offers unlimited bandwidth.
Nowadays, everybody wants to hide their identity, location, and activity. So, by using this app, all your information will be secure. Your sensitive information will never be exposed to hackers and third-party companies.
Free Access to Restricted Content
Regardless of your location, it offers you access to restricted content. It provides more than 1800 servers. Nowadays, websites use geo-restrictions to prohibit users from particular countries to access that content. But the good news is you can access that content with one click by using this VPN.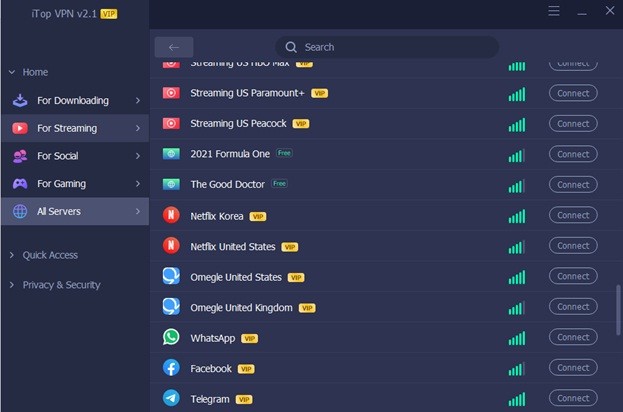 It allows you to unblock videos and music. If you're a game lover, you can enjoy a more stable experience by reducing pings.
It has both free and paid versions available. Their pricing is transparent, and everybody can easily understand. Remember, you can enjoy all the features in the free version, but the data usage is restricted to only 700 MB.
When you decide to use a service, check their support. If it offers excellent support, then you must use that service. Otherwise, quit that service and move forward. iTop VPN provides 24/7 support and answers users' queries in a very quick time.
Disadvantages of iTop VPN
You might be wondering, we have mentioned that it offers fast speed, but here we're saying that it has a drawback of slower speed. It has specific data limitations, and the speed will get lower when you cross that limit. Otherwise, it's super quick. So, the bottom line is you need to download the iTop VPN from the company's official website, Apple and Play Store, and enjoy secure and fast internet access globally with strong encryption.