Health remains the most important aspect in everybody's life. But all people are not in the habit of working out regularly. There are people who get no time to take care of their health mostly because of work load and some just ignore it as a result of laziness. Fitness Checkup Pro developed by Bio2imaging is a fun app that enables you to tone your body with mere taps on your iPhone. You do not have to spend time working out for hours. This app helps you to focus on 11 important aspects that determine your health quotient. First of all it checks your flexibility. How much can you move and stretch your body to accomplish a certain exercise. Then the body control is tested. When we acquire a certain posture or stance, it is very important to keep proper balance by shifting the bodyweight to a correct part.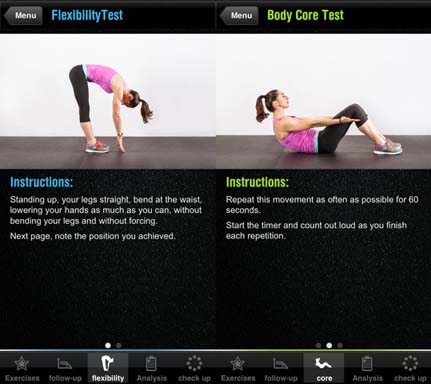 Fitness Checkup Pro also takes care of other aspects such as body mass index, body fat index, explosion, muscle tone, pulse-at-rest, reaction speed, the strength, body core and the capacity of your body to put in effort for a particular exercise. These features help you determine the ability of your body and this app also enables the users to score themselves accordingly.
Fitness Checkup Pro helps the users to keep a track on their health profile by saving the results and letting the users know about the improvements. There are relevant instructions to perform different exercises for every test. You need to follow it accordingly. After that, the results are displayed and you can keep a track of the performance. The fitness check-up option reveals the overall score through a geometric design consisting of a blue area indicating the marks. There are health batches to encourage the users. These health profiles can be shared via social networking sites.
One of the most important aspects of this app is that it measures the heart rate to carry out cardio and effort tests with the help of your camera on the iPhone working as a monitor. Also, there is a definite and genuine heart rate pattern displayed. Phones which have a camera with flash system are preferred for this work. According to the health badges, you need to score 11 or more out of 20 to receive a badge. Silver fitness badge is the position where you can start from. The higher achievements being the gold follow up and gold boost.
Fitness Checkup Pro is an interesting app with various features. The concept is fair and useful but this app needs regular check-in and after a certain time, users may get bored and would like to have something for real.