The world has become a global village due to the advancement in transport, communication, and technology. With every other country within a day's travel or two, learning a foreign language becomes crucial. In addition to showing off your language fluency at an occasional party, bilingualism has now become a happening and real skill to survive outside your nest. With a second language, you can communicate and connect with others your age.
Even before getting fluency in a foreign language, you need to know the commonly used words and phrases in that region. Once you get to know those basic words, even if you are unable to speak grammatically correct sentences, people will understand you. And as you keep conversing with a native, you will slowly understand the context by slowly recalling the vocab. By putting that grammar and vocab into context, you will be able to reply appropriately and in a timely manner. Language is all about expressing your thoughts in a way the person in front of you can understand.
The more languages you learn, the faster you climb up the stairs to your success in all aspects of life.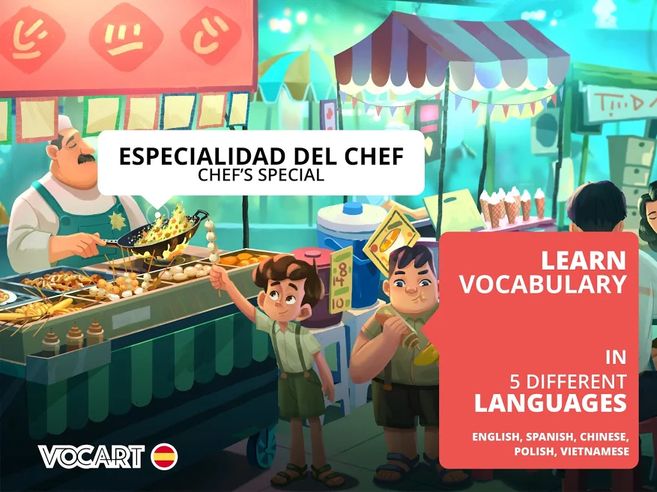 When you are in a foreign place, without knowing the local language, the process of getting each of your work done becomes painfully slow. Even if you know the language, without the correct lingo, you are bound to be mistaken and misunderstood. Starting from transportation, booking a hotel, to sightseeing, knowing the key phrases in a language will fetch you cheaper and faster options.
"VocArt – Vocabulary Artworks" by Pixel Target is an educational play store app that is specifically designed to save your money and time in a foreign country. This app increases your learning vocabulary and helps you learn five languages, English, Chinese, Spanish, Vietnamese, and Polish. VocArt works similar to colorful books with illustrations in learning vocabulary. With simple navigation, you can focus only on what you really want.
The app has several themes, and each category theme is chosen and drawn by the artist themselves. The very first theme is "Food & Kitchen" and is illustrated by Fevik. Each theme consists of 10 colorful and lively illustrations. You must select your native language and target language to begin. Once you are inside a category, you can click on an object to listen to its pronunciation in all 5 languages. Recorded by professional lectors, you can be sure of the pronunciation of words.
The background music for each illustration goes well will the theme. If you wish to just focus on the pronunciation, you can turn the music off in the settings. The app is free of annoying ads. It is 100% kids safe and contains neither ideology nor politics. With the free version of the app, you can access the very first illustration of every theme. The free version covers all the available languages.
To find out how valuable VocArt is, download VocArt now and see it for yourself.