If you often run out of money at the end of every month, feel like you have less financial security, have a higher likelihood of going into debt, spend more than you earn, and impulse buy a lot of things, you got to start budgeting right away. You can either take out a pen & paper and budget the old-fashioned way by gathering information about your income, expenses, setting aside savings, and making sure every dollar is accounted for. Or you can do it the easy way by downloading a budgeting app.
However, with gazillion apps available online promising the best results, it can be overwhelming to choose the one that suits your demands. Budget hound: Smart spending is an iOS app developed by Aleksandr Romanov. The budget planner app is so small-sized that it gets downloaded and installed with the snap of a finger.
On opening the app, you will be asked to set your currency. Then select the month you are about to plan the budget for and enter your income sources. You can add multiple incomes by clicking on the ADD button and entering information about your income category and the approximate amount. On the following page, add more information related to your expenses, namely rent, transport, utilities, internet bills, insurance, debt, and more, for the month. Finally, enter the amount that you wish to keep aside as savings. Voila, Budget hound: Smart spending will carry out financial planning and let you know your daily budget.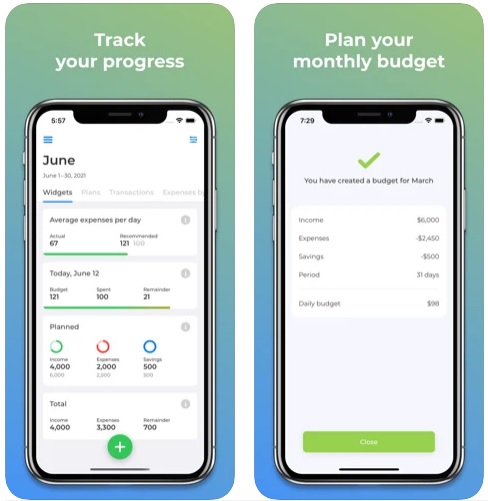 If you are new to the app and forgot to add an expense or savings in the process of getting to know the app, worry not. You can add them even after budget creation, and the app will modify your daily budget accordingly. Alternatively, you can navigate to Menu > Categories and go through all possible expenses, savings & income options and ensure you haven't missed out on anything important. Each category is categorized into folders with multiple entries. You can delete unwanted items and add the ones that you think are missing out.
With Budget hound: Smart spending app, you can plan your budget for the day, add income and expenses in seconds, understand what your top spending is, what you can do to cut down on needless expenses and be mindful of your hard-earned money. You can also know your account balance at your fingertips.
Compared to other complicated iOS apps that demand you to go through pages of instruction just to get a hang of the app, Budget hound: Smart spending is the best there is. The unpretentious app is easy to understand, simple in nature, plans your budget on your behalf, teaches you the importance of saving, and guides you down the road to achieving financial discipline.
As Warren Buffett said, "Do not save what is left after spending; instead spend what is left after saving".
Download the free app now, track your financial goals in one place while creating a cushion for unexpected expenses. Start progressing today!!