You forgot that you were presenting today so you are dumbfounded in front of your colleagues. You do the best that you can under the circumstances but it could have been better if you had only prepared. Or, you could of had Reminder, the last word in reminder apps!
I am sure we have all been in a situation where we have forgotten something. In today's day and age it is impossible to remember it all on our own. Just on a normal day, we are faced with more than seventy decisions, so there is more than enough on our plates.
If you are wondering how our brain handles it all – well, it cannot. And that is how little pieces of information filter through and get lost in the day. It is unfortunate that those little pieces of information could have been really crucial, like those two birthdays you forgot last year!
Eventually, when you do remember that forgotten anniversary or piece of homework, it is followed by a big apology and plenty of excuses. It can either go two ways from here, an argument or the polite "it's okay" – but you know it really is not okay.
Avoid these predicaments by giving yourself the gift of Reminder, it is the simple but most effective way to to create reminders and stick to them. Create your reminder by tapping on the plus sign at the bottom right and fill out all the information.
Scroll and search through your reminders, edit and delete them as you wish. You can skip the scrolling by viewing the daily summary reminder, which will show you the reminders for that particular day. Do things sound super well run already?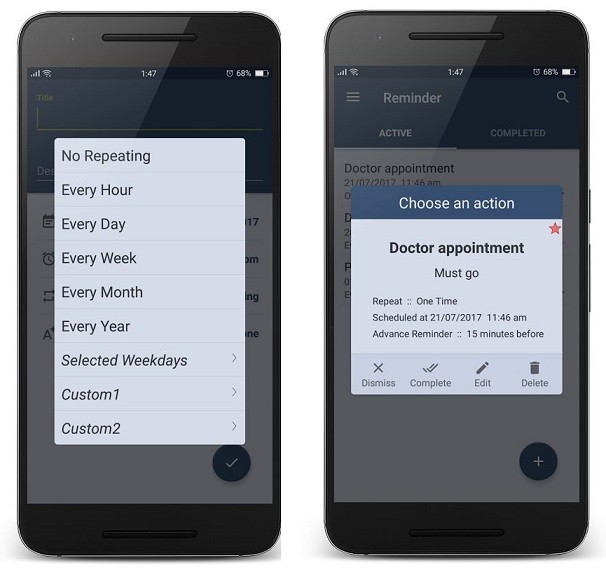 One of the wonderful things about the reminder app is its simplicity and user-friendliness, setting reminders can be done in seconds. When it comes to customizing your notifications that could take a few minutes to setup on day one – just because there are so many!
Customize your theme – choose between light and dark

Choose between standard and compact view

Date and time pickers

Choose ringtones, vibrations, and popup notifications and tiles for each category

Set hourly reminders or snooze

Add your own widget to the app
As you can see, you can really personalize things to your preference. Below are a few more features one can enjoy using the must-have app:
Separate active and completed task lists

Categories with different colours and settings

Search option

Auto backup and manual backup

Reminder- Pro is the ad free version
With all of these wonderful features getting things in order will be a trouble-free affair. Reminder is perfect for school, work, home, and personal use. Just think about it, you will never have to make another awkward apology again!